Un article récent du New York Times intitulé Watch Proteins Do the Jitterbug présente une nouvelle animation de XVIVO Scientific Animation (qui avait déjà fait The Inner Life of the Cell) avec cette fois un environnement beaucoup plus dense :
Inner Life of a Cell | Protein Packing
Cette vidéo rappelle la modélisation de la dynamique des protéines contenues dans un cytoplasme bactérien qu'avait faite McGuffee et Elcock en 2010 (Diffusion, Crowding & Protein Stability in a Dynamic Molecular Model of the Bacterial Cytoplasm) :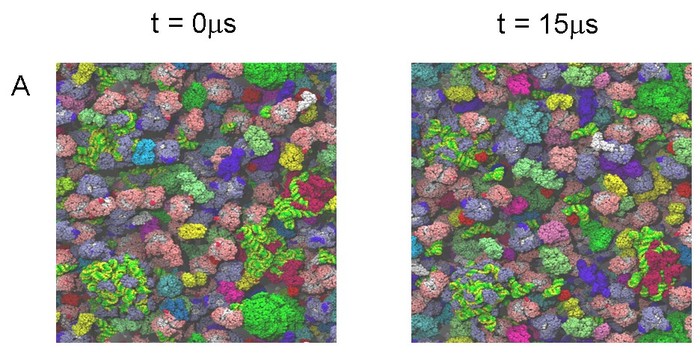 Extrait de la figure 1 des Supporting Information de McGuffee & Elcock, PLoS Computational Biology, 2010.
Et pour faire écho à l'article du New York Times, voici une vidéo de Jerry Lewis en train de danser le fameux Jitterbug (une idée de traduction ?).